1.   Keep everyone out of each other's way.
Whether adults and kids all use the same bathroom, or kids share one mostly for themselves, you want to avoid having folks bumping into each other as they get ready for school, work or bed.
Consider installing a double vanity with two sinks side by side. Can't fit a double vanity into the bathroom? A larger sink with two faucets could help. Yes, that's a real thing, and it eliminates the need for a larger vanity cabinet.
If you plan to be in your home for years to come, or you have (or will have!) several young children, think about installing a toilet with extra clearance around it. With more room around the toilet, adults can more easily help youngsters who are toilet training.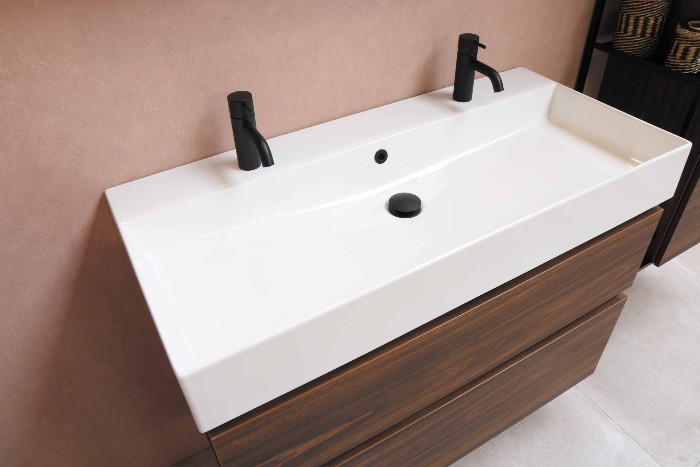 2.   Help kids help themselves.
Step stools to help kids reach the sink are a must if you want those little hands washed well. But you don't have to resign yourself to plastic stools in primary colors. Wooden step stools look great. Sturdy folding step stools can help the kids but also be stowed away when company comes.
A great alternative is a built-in step stool. Picture the lowest drawer on a vanity pulled out to reveal it's actually a solid platform on which a kid can stand to use the sink. Slide it back in and no one knows it's anything other than a drawer. When your child outgrows the stool, convert it into a drawer.
Put fresh towels within kids' reach by installing an open shelf below the vanity, or store towels in a recessed wall niche they can reach. Mount plenty of hooks on the walls at the right height for kids to use for wet towels, or mount some towel bars down low, under the adult-height towel bars.
3.   Don't overdo themes.
Kids get passionately attached to their favorite animals, characters or colors, but can outgrow those interests quickly. How can you let the kids have fun with favorite characters, yet avoid turning the bathroom into a theme park?
Go with a neutral bathroom, then add easily changed touches of a theme or color scheme. A themed shower curtain is simple to replace. You can find removable wallpaper borders with myriad themes, characters, and designs. Let the kids choose a themed toothbrush holder or soap pump.
Kids and adults alike love color that warms and wakes them, so use paint to add pizazz. Painting just one wall in a bright color creates an accent but is also easily changed. You could choose a bright color for the vanity, or leave the vanity neutral and pop on a brightly colored countertop made of durable, affordable quartz.
For all your kids' bathroom needs, consult a Bath Tune-Up expert near you.