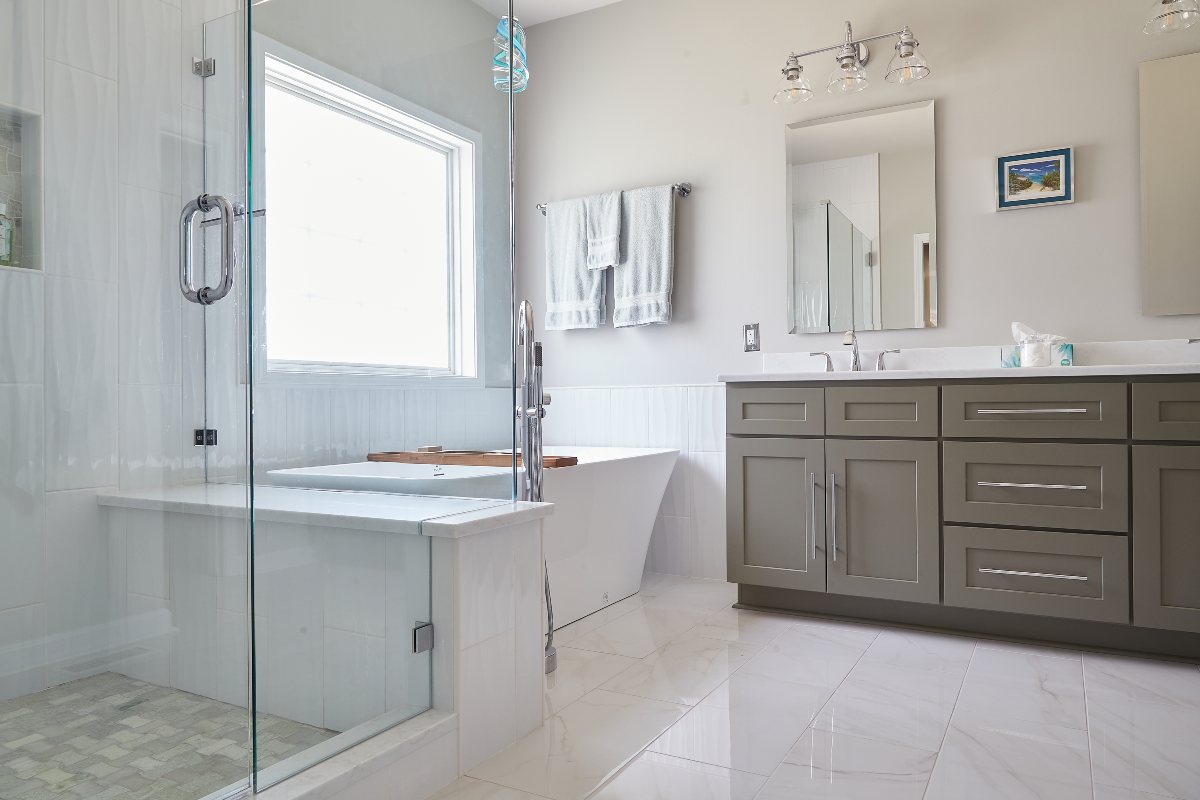 The Big Picture
A bathroom remodel can range from as little as $3,500 up to more than $25,000, according to a 2021 report from Home Advisor, a platform linking consumers with remodeling professionals. Upgrades just to the essential fixtures in a small-to-medium bathroom will run from $3,500 to $7,000, while that whopping $25,000 price tag is for upgrades to a master or large bathroom. The average for a bathroom remodel is around $11,000, says the National Kitchen and Bath Association.
Note that all those numbers vary widely because they include everything from remodels by handy homeowners, who did their own labor, to professional remodels of luxury bathrooms.
Though material prices are consistent nationwide, labor is a question mark. Overall, labor accounts for an average of 50 percent of total project costs but be prepared for higher labor costs depending on where you live. Labor costs can vary by as much as 20 percent depending on the region.
Several factors affect the cost of a bathroom remodel. Consider these four factors when creating your budget.
How big is the bathroom?
The size of the bathroom is one factor that contributes to the cost of your remodel. A small scale bathroom, between 15-90 square feet, can range on average from $5,000 to $12,000 depending on where you live and materials used.
The average for a full remodel of a master bath is $18,000, while the average for a small bathroom remodel is anywhere from $1,500 to $15,000. Why the large range for a small bathroom? Everything depends on what you want done and how expensive your chosen materials will be.
What's the scope of your remodel?
Think of bathroom remodels as a range, from basic changes like new paint, a new floor and maybe an upgraded vanity, all the way to major structural changes like expanding the bathroom's size. The larger the scope, the more you'll spend, of course. But even smaller changes can end up biting into the budget if you don't realize they involve costly labor.
When you're setting the scope, consider these factors:
Moving or altering plumbing. If you relocate the bath or shower, toilet or sinks, replace a tub with a shower (or vice versa), add a bidet, or install a freestanding bath, plumbing has to move too.
Moving or adding electrical work. New or moved light fixtures, relocated sockets, or features like a heated floor all might require new or rerouted wiring.
Making structural changes. Enlarging a bathroom requires demolition, framing work, and skill in hanging drywall. Home Advisor gives an example: Turning a half bath into a full bath involves altering the floor plan, increasing the total remodel cost by about $5,000. That figure can rise easily.
Altering a bathroom to accommodate mobility issues. Your remodel might involve widening doorways, installing roll-in showers or walk-in tubs, preparing wall studs to hold grab bars, and other changes requiring specialized fixtures or framing.
Adding special features like a skylight, a window, recessed shelving between wall studs, or new or custom cabinetry will increase labor and materials costs too.
What materials and fixtures will you use?
While labor is the largest single expense in any bathroom remodel–between 40 percent and 65 percent of the cost is labor–it also tends to be a cost you probably can't negotiate much.
Materials and fixtures are where you can save or splurge, and your choices will greatly affect the project's overall cost. On average, cabinets and hardware account for 16 percent of a bathroom remodel's cost. Faucets and plumbing are 15 percent of the cost, tied with fixtures (like toilets and tubs), which account for yet another 15 percent. Do your homework on these expenditures because there is a huge range of materials available, across a wide spectrum of quality and price.
Take tile and flooring, for instance. You can find ceramic bathroom wall tile for as little as $3 a square foot or luxury natural stone tile for hundreds of dollars per square foot. Bathroom flooring could be sheet vinyl at $1 to $4 per square foot, or you could opt for marble at $70 per square foot–or more.
Are there problems with the existing bathroom?
"Out of sight, out of mind" is a saying that could have been coined for bathrooms. We seldom think about the pipes behind the walls or the subflooring beneath our feet. Why should we, as long as everything's working?
When you're considering a remodel, you'll have to think about those hidden nooks. Problems behind the scenes can drive up your remodeling costs. Go in with open eyes by checking for the following:
Rotted or damaged subflooring
Damage or leaks around the toilet base, sink, shower or tub
Old plumbing that might be working, but which could be near the end of its useful life
Mold–in the walls, under the floor, around the shower pan, behind tile
The costs of bathroom remodels can balloon if you don't plan adequately. Working with a professional remodeler who can get good deals on materials and who can advise you on every step is a great way to keep your costs reasonable.
If you'd like to learn more about bath remodeling, reach out to your local Bath Tune-Up location for more information.