Bath Remodeling Tips for Your Bath Project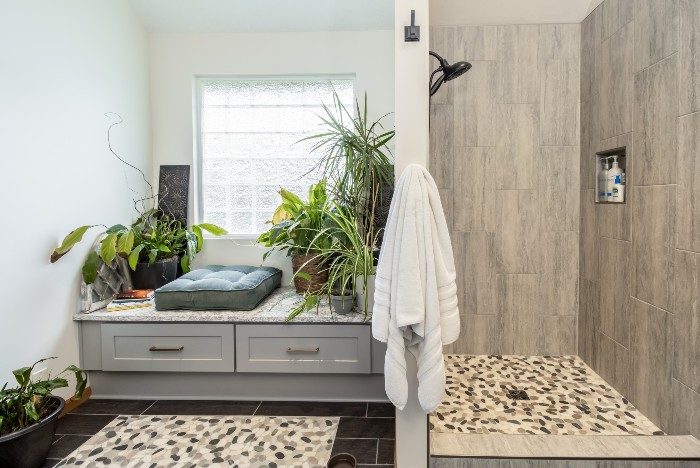 You want to reboot your old bathroom. You need a bathroom to remodel plan so you get what you want and need. A remodel is an opportunity to do much more than just beautify the space–it's your chance to revamp the bathroom's function and convenience, too. Create a realistic plan with these tips.
Do Your Homework
Gather ideas. Look online at design, DIY and remodeling sites, flip through magazines, visit showrooms and collect your favorite ideas. Now is the time to dream big–you'll tailor your dreams to the realities of budget and space later.
Who is this remodel for? Is this remodel for your family or is it for potential buyers in the near future? If you're staying put for another five years or so, focus on what you want, not what you hear buyers prefer.
What's the budget? You need realistic estimates that won't balloon unexpectedly. Using established professionals is one way to ensure estimates are accurate.
What do you want to keep or change? Altering the footprint of a bathroom–moving the locations of the toilet, bath or sink–means moving plumbing around, and that gets expensive. Consider whether your remodel can fit the existing footprint or if you need to budget for bigger changes.
Are there repair issues? If the bathroom has water damage, rot, mold, unsafe wiring or decrepit plumbing, those fixes get priority.
How long can you live without this bathroom? A remodel that will take weeks or months isn't realistic if your family needs this bathroom back in action quickly.
Plan the Specifics
Bathrooms seem simple. Tub or shower, toilet, sink, done. But as you draft your bath to remodel plan, consider options like these.
Tub and Shower
If you take baths only occasionally, consider ditching the tub. Showers can take up less space.
If you want a bathtub, do you want to keep (or replace) your current built-in bathtub? Freestanding tubs are a hot design trend right now, and you might be tempted to install one to replace a built-in bathtub. If you go with a freestanding tub, think about whether you have enough space and whether you're OK with running new plumbing that might have to come up out of the floor.
Consider increasing drain size for the shower or tub and the sink. Standard pipes are 1.5 inches. Installing 2-inch pipes is relatively inexpensive and reduces clogs later.
Toilet
To gain space, replace the standard toilet with a compact toilet or wall-mounted toilet. Compact toilets usually have slimmer tanks (and standard-sized seats, so don't worry about reduced seat size). Tanks for wall-mounted toilets are inside the wall behind the bowl, which attaches directly to the wall.
Sink and Vanity
We all need more counter space, but take care not to add a larger vanity just to get more countertop. Bulky vanities consume floor space. Consider a "floating" vanity that attaches to the wall and doesn't go all the way to the floor, for a roomier appearance. Look at vanities with drawers instead of cabinets, so you have easier access to the contents. If your bathroom is small, consider a corner sink if plumbing allows it. Corner sinks can free up a wall.
Lighting
You want optimal lighting, especially over the sink, for shaving, fixing hair, and putting on makeup. Try sconces flanking each side of the mirror to cast light on your face from both directions. Talk to your contractor about task lighting for the countertop, lighting beneath the edge of the vanity, and recessed lighting for the shower stall.
Outlets
Have you ever lived with a bathroom where there weren't enough outlets, or the outlets were in all the wrong places? It's inconvenient to plug the electric toothbrush into a bedroom outlet, or blow dry hair in a spot away from the bathroom mirror. Consider installing outlets inside the medicine cabinet as well as above the sink.
Storage
Remodeling is an opportunity to increase storage. Build niches into shower walls. Insert shallow cabinets or open shelves into the walls, recessed between existing studs. Recess your new medicine cabinet into the wall over the sink. Recessed cabinets and shelves like these are simple to frame and they provide storage that won't stick out into the room or take up floor space.
Ventilation
Removing steam from a bathroom is vital to keeping a remodeling investment in good shape. Look for an "ultra-quiet" fan with a timer. If possible, vent the fan to the outdoors, not into an attic.
The Future
Why not prepare now for accessibility later, especially if you plan to "age in place" in your home? Ask about widening the doorway, putting bracing behind walls for attaching grab bars later, and installing a shower without any "curb" to trip up feet.
A bath remodeling expert can turn your plan into reality. Contact your nearest Bath Tune-Up for advice, estimates, and ideas.