7 Bath Remodel Mistakes and How to Avoid Them
Planning to remodel your bathroom? Be sure you don't fall prey to these common errors. Here are seven-bathroom remodel mistakes to avoid.
Neglecting to plan
All other bathrooms remodel mistakes flow from this one. Bathrooms cram several important systems into a small space, leaving you no room for error. Don't start pulling out the vanity or toilet without a start-to-finish plan in place. Measure and measure again. Create a detailed budget with wiggle room for extra expenses, in case you uncover problems like mildew behind a wall or a hidden leak under the toilet. Focus on layout and spacing, not decorating.
Forgetting about ventilation
A steamy bathroom is a slippery bathroom, with slick floors, mirrors you have to wipe before you can see yourself, and surfaces that sprout mildew. Good ventilation and the right exhaust fan are keys to a long-lasting renovation and a safer bathroom.
Homeowners often treat the exhaust fan as an afterthought, or they assume that their current fan can handle a newly remodeled bathroom's moisture, even if the remodel included a more powerful shower or a second sink. Do you know how to choose a bathroom fan to keep your remodeling job free of mold and mildew for years to come? Do your research or consult with a professional.
Installing too much, not enough, or the wrong lighting
Bathroom lighting is tricky: Too bright, and light glares off the bathroom's hard surfaces and makes everyone look harsh in the mirror. Too dim, and it's difficult to shave or put on make-up. Placing light fixtures in the wrong location can create shadows across your face.
Plan for layers of light in your bathroom. Place sconces on each side of the mirror to create balanced lighting without shadows. Include an overhead light and consider using small LED lights to illuminate spots like the shower or cast soft light onto the floor from beneath the vanity. A professional remodeler can recommend the best lighting plan for your bathroom.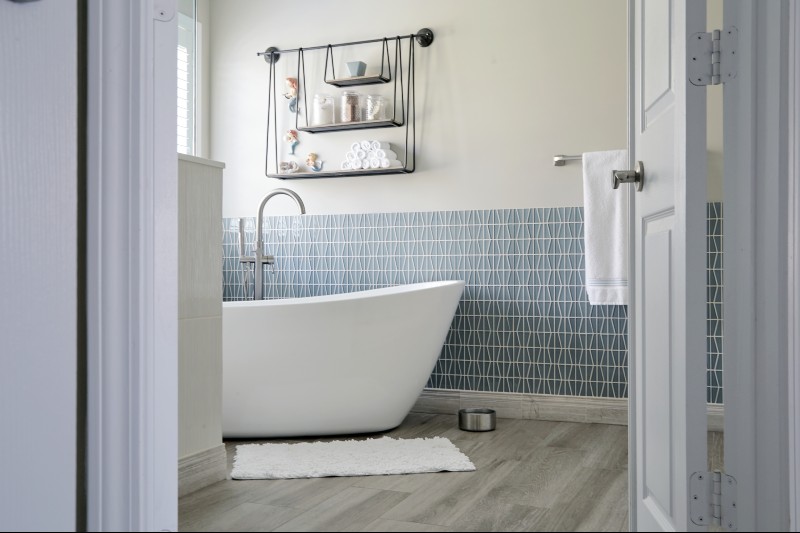 "Saving money" by using cheap faucet and shower hardware
With sink faucets ranging from $30 to $500 and up, homeowners understandably think they can cut corners by getting a less pricey faucet or showerhead. As long as the water flows and there's no leak, everything's fine–until it isn't.
Go to a plumbing supply firm rather than a big-box DIY store. You don't need a $500 faucet, but you do need to pay for quality. If you don't, you could end up with a faucet you'll just have to replace in a few years. Choosing fixtures and faucets can be daunting, with so many models in stores and online, but a professional bathroom remodeler can advise you on the right models for your needs and your budget.
Replacing fixtures without understanding the details
Simply swapping new fixtures for old ones is less complicated if you aren't moving them to new locations in the bathroom. So this seems like an ideal DIY task. But there's still a lot to consider, much of it hidden from the homeowner's view.
For example Toilet out, toilet in, done–that should be basic. But if you don't situate the new toilet correctly on the wax ring that sits beneath it, you could end up with leaks. Replacing a shower with one the same size in the same spot? You still need to make sure the drain pan below the shower has the correct pitch so water drains properly. A pro remodeler is experienced in planning for these vital behind-the-scenes (or under-the-floor) details.
Neglecting storage
A major bath remodels mistake is forgetting to include adequate storage. Once the remodel is complete, discovering you have too little storage means you end up crowding toothbrushes, electric razors, hairbrushes, and more onto your lovely new countertops.
Plan ahead. Don't adopt a minimalist design that will end up cluttered with day-to-day necessities. Inventory what you expect to keep in the bathroom and plan storage around it. Consider including recessed niches in the shower or a recessed storage cabinet in the wall, inserted between wall studs. A mirrored cabinet recessed into the wall above the sink is a great option providing both storage and the all-important bathroom mirror.
Thinking flooring is "the easy part"
Install the wrong flooring and you could end up redoing the job sooner rather than later. Don't let a pretty surface lull you into choosing an inappropriate material for your bathroom floor. While natural stone-like marble looks amazing, it also requires special maintenance and doesn't play well with moisture. Wood flooring is classy, yet warping over time is a real risk.
Tile or vinyl flooring are good choices in a bathroom remodel, but even then, do your research. Glossy tile can get slippery. Laying tile might be a job for a pro, not a homeowner. Any flooring needs to be level and the subfloor prepared correctly or moisture could damage the subfloor eventually.
Avoid mistakes like failing to plan and taking important basics like ventilation, flooring, and lighting for granted. Not sure if DIY is for you? Take a look at what a professional bath remodeler can do in just days. Talk with your closest Bath Tune-Up pros today.