What to Consider when Remodeling Your Bathroom to Age in Place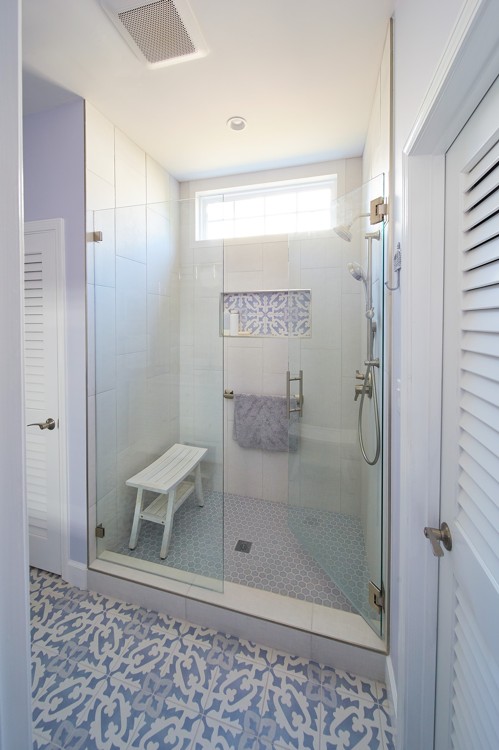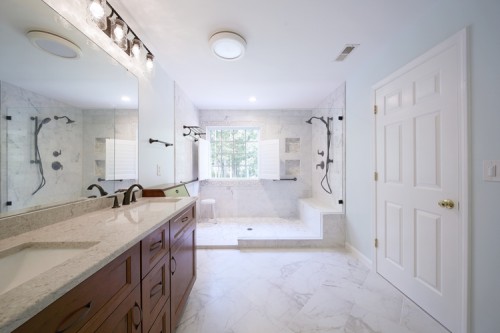 How can you safely stay in your own home as you get older? Remodeling to improve bathroom safety is key to preventing falls and remaining in the house you love. Here are changes to consider to make aging in place a safe success.
Bathtubs
Standard tubs, with relatively high sides to step over, are far from ideal. Even if you don't have mobility issues, getting in and out of a floor-level tub could be risky.
Walk-in tubs are deeper and shorter than standard tubs. They have a seat molded into the tub and a side door so you simply open the door, step in, sit and let the water fill the tub. Walk-in tubs can be good choices for bathroom remodels–especially new builds–because they fit into spaces that would be too short for standard tubs. The down side: you sit in a dry tub and have to wait for it to fill. But that "con" is offset by the greater safety and comfort of a seated bath.
Showers
Curbless shower stalls have no lip or edge between the bathroom floor and the shower floor, so you can roll a wheelchair or walker right into the shower space. The lack of any edge means safer entry even if you don't use a wheelchair, and there are many ways to achieve this option in the shower design.
Inside the shower, use a shower stool or bench. You can build a permanent one into the shower stall wall, or buy a separate stool designed for showering. Being seated means you're farther from the shower head, so install an adjustable height shower head that slides up and down on a vertical bar.
To store toiletries, install niches or shelves in the shower walls. Set them lower than usual, so you can reach them easily while staying seated.
Grab Bars and Rails
Around and inside showers, around tubs and next to toilets, grab bars and rails are essential safety features. If you're picturing a hospital look, with gray bars, don't worry. Rails come in a wide range of colors and finishes including trendy metallics, so you can coordinate with any decor. Just be sure your bars or rails can support at least 200 pounds and have a textured grip surface.
The key to installing bars is to prepare for them before anyone needs them. If you're taking out drywall, plan where you'll need bars and put extra braces behind the new walls. When you install rails you'll already have bracing to which you can attach them. Otherwise, find the studs behind your existing walls and always attach bars through the wall into the studs. Bars or rails attached only to drywall eventually will pull away from the wall.
You'll want bars for the tub and/or shower stall, including inside the shower, and next to the toilet–possibly on both sides.
Flooring
Consider installing matte tiles with surfaces designed for better footing. If replacing a slick tile floor isn't in your budget, paint an anti-slip coating onto your existing floor.
Rugs and mats, even on nonslip backing, can catch a foot, cane or walker. Consider doing away with rugs or mats. If you do use them, apply extra rug tape, especially near edges, to keep those edges as flat as possible.
Toilets
Attachable toilet seats raise the seat level higher for easier use. You don't need to replace the whole toilet if you simply add an attachable seat and you can remove it as needed. You also can add a bidet attachment to an existing toilet or buy a new toilet with an incorporated bidet.
Sinks and Vanities
If there's a wheelchair user in the house, don't forget to leave clearance under the sink for the chair to roll up to it. Lower countertops and mirrors help wheelchair users, too. Everyone benefits from lever-style handles on faucets because levers are easier to grip and turn than other types of handles that require twisting.
Lighting
Motion sensor lights are great for an age-in-place bathroom. You don't have to find a switch in the dark. For another lighting, try wall sconces placed lower than in most bathrooms, with switches lower on the walls too, so they're accessible from wheelchair height or easy to reach for someone who needs to grip a walker or cane with the other hand. Don't want to install new lighting? Stick up individual battery-powered lights that don't require any wiring.
Doors
Standard doorways often aren't wide enough for wheelchairs or even for walkers. Widening bathroom doorways now, before anyone in the house needs the extra room, means you're ready to age in place. Often you only need to widen one side of a doorway to get the clearance you need.
If the bathroom door opens into the bathroom, it reduces needed space inside the room. Consider whether to change to a door that opens out into a hallway. Pocket doors that slide into the wall are another option.
Your Bath Tune-Up experts will work with you to make your bathroom safer and easier to use while also saving you money. Contact Bath Tune-Up today.