Trending: Styles to Watch for in the Bath Space in 2023
Whether you're thinking about remodeling or building a new home, your bathroom is one of the most important spaces you can design. It should be a place that makes you feel comfortable while also meeting your aesthetic preferences and the functionality needs for your family.
Coming up with the right bathroom design can be fun. One thing you can do if you need a bit of inspiration is look at what other people are doing and find trending design ideas that you enjoy. Here are some of the top bathroom trends predicted for the upcoming year (2023) based on the most popular trends of 2022.
Elegance in Simplicity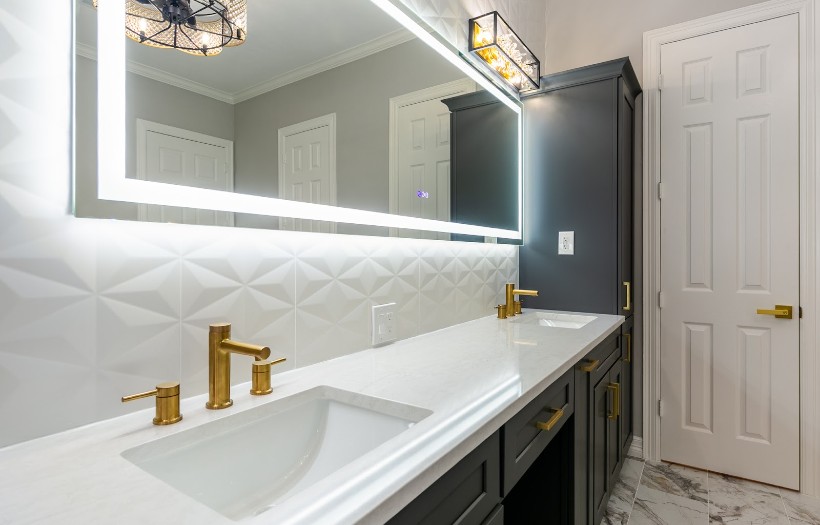 One of the common themes throughout top trending bathroom trends in 2022 was the use of simplicity and minimalism to bring out the elegance of a space. For example, rather than using the common lighting style of wall-mounted lights above a bathroom mirror or standard ceiling lights, people have been using backlit mirrors to save space while elevating the aesthetic.
Rather than having overt decorations in a bathroom, the trends of 2022 indicate that there's a strong chance that using the standard fixtures and hardware in a bathroom as accents will be in style. This will likely be in the form of shiny metallic gold- or silver-colored faucets, cabinet handles, etc. Using already existing features to add interest can help keep your bathroom from looking cluttered.
Other Trends
Seamless glass showers implement the use of two sliding glass panes as doors. The difference between this and a standard glass shower is that these are designed to function without a frame. It's also a way to give small bathrooms the illusion of extra space.
In addition to all of this, simplicity will likely be trending in the designs of the bathrooms themselves. This includes things like in-wall shelving (a recess built into the walls with storage space), a focus on the fundamentals, and the implementation of various shapes.
Artistic Appeal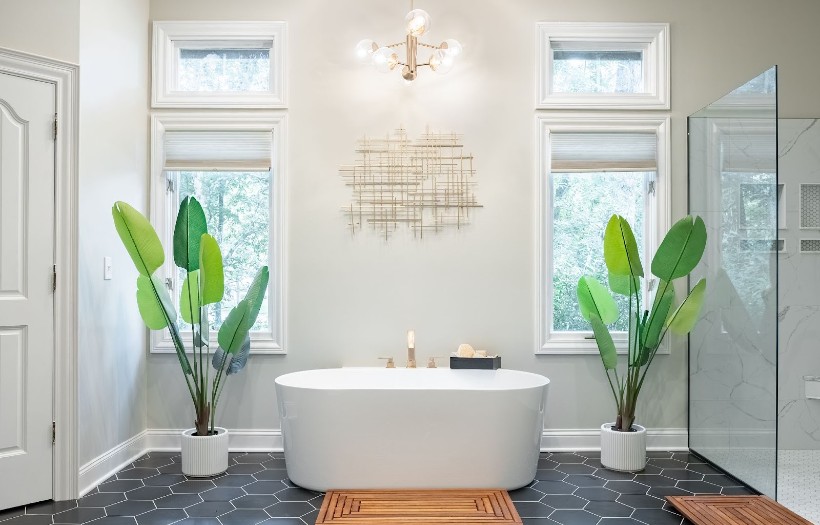 Aside from simplistic elegance, another major bathroom trend is likely to grow in popularity in 2023, and that's designs that implement highly artistic aspects to achieve an air of luxury, modernism, or naturality. A minor example of this is the rising popularity of one-of-a-kind freestanding tubs. The more creative and out-of-the-box they look, the better.
Artificial plants and nature-inspired designs arranged just right can give any bathroom an earthy, down-home feel while still making it seem fancy and luxurious. Earth tones are likely to make a resurgence, with things like tan tiling and dusky brown cabinetry taking the spotlight. Muted greens and medium grays are also likely to make an appearance to keep everything feeling oriented and coordinated.
Geometric-themed designs are also an excellent way to give your bathroom an artistic feel without going all out. For example, instead of the typical square or rectangular tiles you see in most bathrooms, more elaborate shapes may be seen when tiling bathrooms in 2023.
The Best Bathroom Designs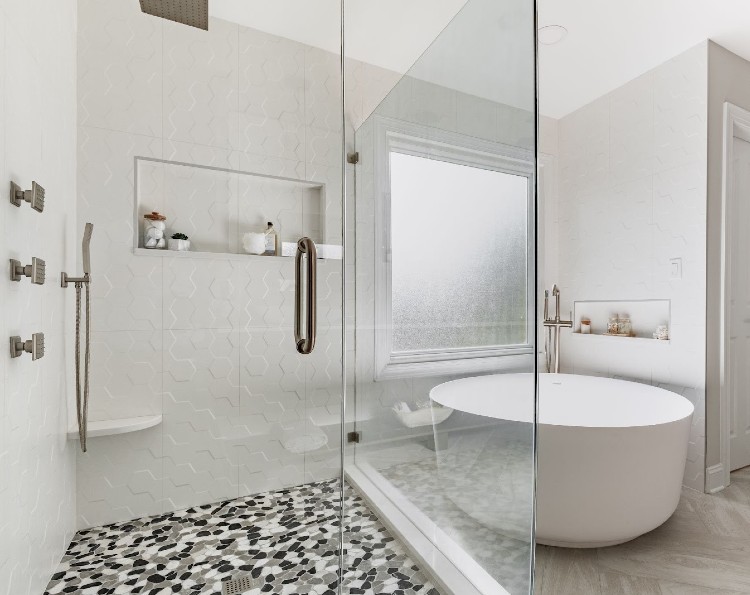 While it's not likely that tile will stop being a main feature in bathrooms any time soon, or that carpeted bathrooms will ever be a good idea, there is no such thing as a permanent trend. Whatever may be in style at the time, our experts at Bath Tune-Up will work with you to achieve your perfect oasis. Choose colors and a look you love, then sit back and relax - our team will do the rest.