Tips for Designing Your Dream Bathroom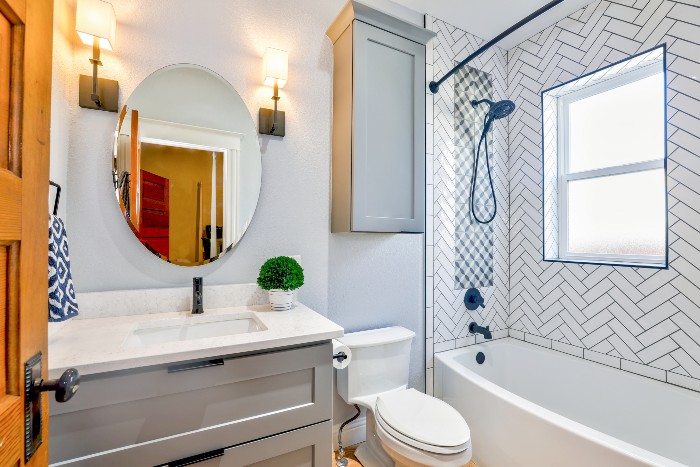 If you could have the bathroom of your fantasies, would your space be cool and serene, or homey and cozy? Use these tips for designing your dream bathroom to turn any dream into reality.
Start with Functionality
A dream bathroom is about more than decor or luxurious fixtures. First assess what you really need. A bathroom won't feel dreamy if you're frustrated by lack of storage or wishing you had more lighting. Does the layout need changing? Would a second sink make life easier? Ponder how you use the space daily.
Bath, Shower or Both?
Freestanding tubs are elegant if you have space. But do you need a bathtub? Consider whether a shower stall could replace a tub. Showerheads can give you a spa-like experience whether you want "rain shower" heads, multidirectional jets, or hand-held showerheads. If you opt for a freestanding tub, find an old-fashioned footed tub for a relaxed country or cottage vibe, or get a modern, sculptural tub for a city spa look.
Add Color
Does your fantasy bathroom energize you? Or do you want to relax in a soothing bathroom at the day's end? Most bathrooms need to meet both those needs. Color sets the tone, whether you choose calming neutrals or earth tones, livelier pops of bold color, or pastels that transition well between efficient morning and relaxing evening moods.
Tub surrounds and shower stalls are canvases for creativity. Pick tiles with shapes, colors and patterns to liven up your bathroom.
Flooring
Looks, safety, and easy care–that's the formula for flooring. Your dream bathroom shouldn't be one where you worry about slipping, so consider textured tile or matte stone for good footing. If you use tile, seal the grout so cleanup is easier. Got a high-traffic family bathroom, but still want it to be your retreat? Get a laminate floor that's easy to maintain but has a natural look.
Windows
Window treatments go beyond traditional blinds. Picture balloon shades, Roman shades, or "honeycomb" blinds add texture to your bathroom. Whatever you choose, pick moisture- and mildew-resistant materials.
Lighting
Be sure your mirror gets light not only from above but also from the sides, so your face is well illuminated. Consider classic chandeliers or trendy pendant lamps to add character. Place lights at all levels–overhead, over the vanity, in-wall sconces, even under cabinets. Light fixtures add style and increased light levels boost your mood.
Extras
Think about a sound system or television for entertainment while you're soaking. Pick what matches your personal style– plants, candles, wall art, coordinated accessories like tissue holders, and soap pumps. Install a fireplace if you want one. It's your dream!
For help planning your dream bathroom, talk to your nearest Bath Tune-Up experts today.