The Best Options for a Freestanding Bathtub
Your bathroom is probably the most used room in your house. Therefore, it needs to be designed in a way that both appeals to your aesthetic and operates functionally. Other than the toilet, the bathtub will probably be the fixture you use most in the bathroom, so it's pretty important to find one that you like.
A freestanding bathtub adds a little extra personality to your bathroom. These fixtures can come in virtually any color, design, or style so that your bathroom will look unique. It may take up more space than a traditional tub, but it gives off the illusion of extra space.
Our freestanding bathtubs are designed with buyers in mind. Two-piece bathtubs can maximize the space and are perfect for small-footprint bathrooms. They also have applied acrylic with a superior luster that offers a truer white.
A few examples of the freestanding tubs we offer are the Eldora, the Finlay, the Fontana, and the Sonoma.
Eldora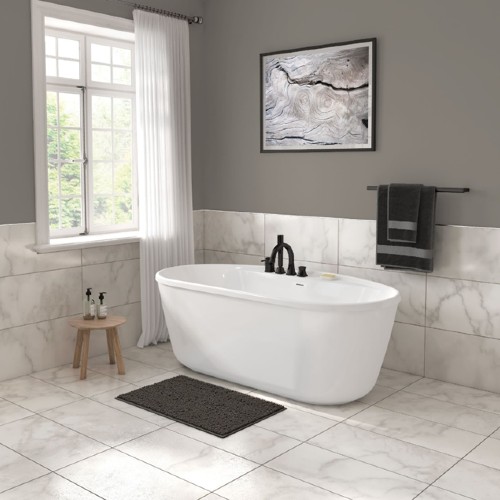 The Eldora is available in two sizes. 58"x32"x23" for smaller bathrooms or 64"x34"x23" for those with more space. The Eldora also hosts features that include leveling legs, ability to either deck mount or floor mount faucet, and a maximized bathing well.
Fontana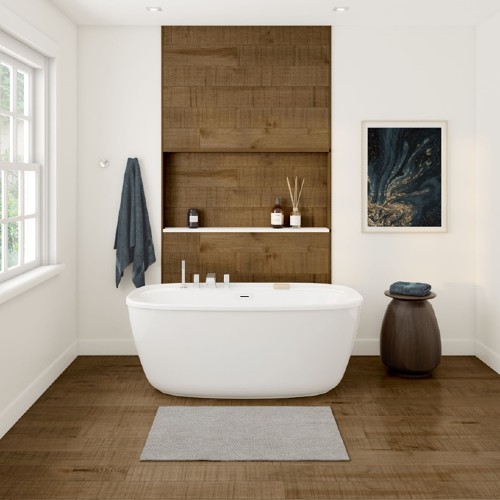 The Fontana freestanding two-piece bathtub model has all of the same basic features as the other tubs, including the option of either a deck-mounted faucet or a floor-mounted faucet. It also has a full-length deck, providing you with some much-needed space for other faucet and bath essentials.
The Fontana's 58"x32"x23" size means that it's perfect for small spaces and bathrooms with a small footprint. It also has a modern, rounded rectangular design that can fit in with almost any design aesthetic you choose for your bathroom. Its white linear trim that can accommodate all faucet finishes, and a full-length deck perfect for faucet and bath essentials.
Sonoma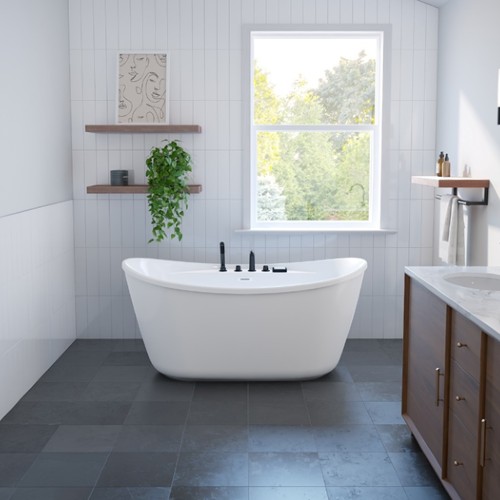 The Sonoma two-piece freestanding bathtub is 58" x 32" x 27", making it perfect for five-foot floor spaces. The slightly smaller-than-average area of the tub means that it can fit in smaller bathrooms, while the above-average tub height means you can get extra space for deeper baths. It also has a backrest so that you can submerge yourself in a nice warm bath after a long, stressful day and just relax.
Finlay

The Finlay two-piece freestanding bathtub measures 58" x 32" x 27.75". This size makes it perfect for small, 5-foot floor spaces. The Finlay has a comfortable backrest to accompany its maximized space. It and the other models listed here come with leveling legs, so your tub will sit level and be easier to install.
If any of these tub options look perfect for your bathroom, then you're in luck. When thinking about your next bathroom remodel, consider going with one of these high-quality, roomy, comfortable, and upscale freestanding bathtubs.
Whether you'd like a new tub or a whole new bathroom, Bath Tune-Up is here to help. Don't miss out on getting one of these high-quality tubs just because you need help with the installation process. That's why we're working with manufacturers like these to help install and distribute freestanding tubs.