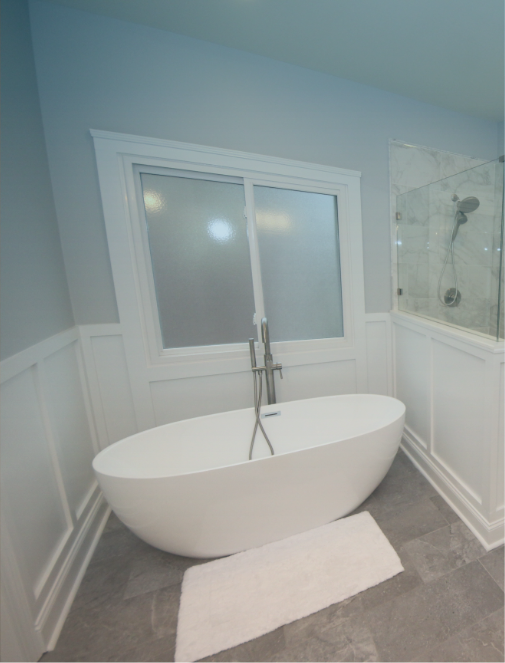 Your bathroom might be small but never underestimate its importance. Your family needs a functional space with plenty of storage. How can you gain storage space when remodeling?
Rethink the Sink
Wall-mounted sinks, without cabinets below them, save floor space and look smaller than sinks perched on vanity cabinets. Still, want to use that under-sink space? Put a floating shelf there.
If vanity is a priority, shop for curved ones. Transitioning from a rectangular vanity to one with a curved front and sides reduces the cabinets' footprint while still giving you enclosed storage. Bonus: Curved vanities bring a unique, elegant style.
There's no rule saying sinks must be along a wall. Tucking a triangular vanity into a corner can increase floor space and free up walls for other storage.
Let a Shower Extend the Room
Consider replacing the tub with a ceiling-to-floor shower stall. Stalls with glass doors that reach the floor will visually extend the room. Build shelves into the shower stall walls for soaps and shampoos.
Another option is a shower without a tub, doors, or a shower stall floor. Picture a bathroom with a tile floor throughout, but on one end, the tile floor angles down slightly toward a drain. This area is the shower, at floor level. Add a shower surround on the walls, plus a curtain, and you've got a shower that's part of the room itself.
Toilets: Small and On the Wall
Wall-mounted toilets—without a visible tank or a pedestal—save space and make the bathroom appear larger by freeing up floor space. If you prefer a pedestal toilet, look for a "compact toilet" designed to fit better in small bathrooms.
If the toilet is next to the sink, you can extend the sink countertop over the top of the toilet tank to gain counter space.
Use Overlooked Spaces
Remodeling can buy you more storage in areas like these:
In the wall: Between studs, insert niches large or small to create recessed spaces you fill with closed cabinets, open shelving, drawers, or bins.
Above the toilet: Will the wall accommodate recessed niches, shelving, cabinets, or a wall-mounted rack?
Above the door: This is potential storage space that's out of your way, yet keeps less-used items nearby. Mount a high shelf or cabinet here.
Inside cabinets: Install pullout shelves inside at different heights. Smoothly rolling pullouts let you store and access oddly sized items (think: blow dryers, curling irons, bottles of many sizes) easily.
Ask your renovation specialist how you can gain storage while adding great looks to your bathroom.