Making the Most of Your Space: A Guide to Remodeling a 5 x 8 Bathroom
A well-designed bathroom can make a significant difference in your home's comfort and aesthetics. A smaller, standard sized bathroom is commonly a 5 foot by 8 foot space that can make layout changes tricky but can benefit greatly from a makeover. This article will cover some FAQs around this space, what to expect, what can be done, and ideas to maximize your bathroom: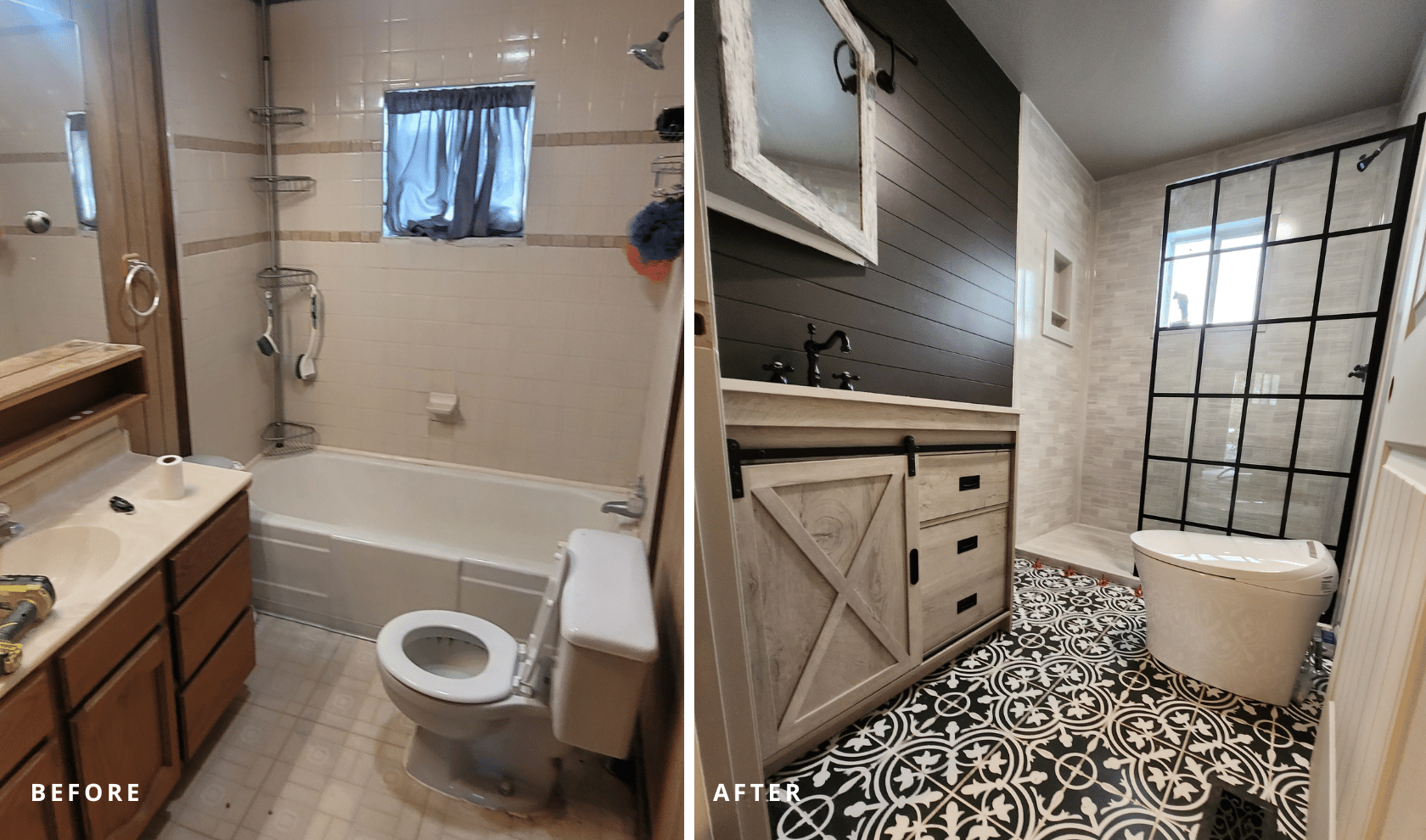 How much does it cost to remodel a 5x8 bathroom?
The question of cost always comes to the forefront when planning a remodel for any part of your home. Something to note is that a bathroom remodels on average see 71% ROI from their investment, as opposed to 56% for primary bedroom remodels and 67% for kitchen remodels, according to the National Association of Realtors. A remodel done by an experienced contractor will not be cheap, but worth the investment to be done correctly.
The most common approaches are to redo the wet space (tub, shower, combo) only, update the vanity, or completely update all elements.
There are options for updating the wet space. Converting the tub to a shower or vice versa, or simply replacing the show surround, glass, base, and other main parts. This typically starts at $10,000, depending on the approach and materials.
Updating the vanity to be better suited for storage or functional needs is another option that can be less invasive than a full overhaul. Vanity pricing will mainly be influenced by the size needed, but a small single vanity can be expected to start at $500. Storage and accessories can be added to better suit your needs for an added investment.
It is just as common to go all-in and update the above-mentioned elements and then some – the flooring, lighting, fixtures – the works. Because the scope of these projects can vary greatly, the price range will differ just as much. One should anticipate a starting investment of around $18,000 for a full bathroom remodel for a 5x8 space.
Regardless of your level of remodel, the investment to improve the space is wise whether you see it back in ROI when you sell your home or improve quality of life for your own use.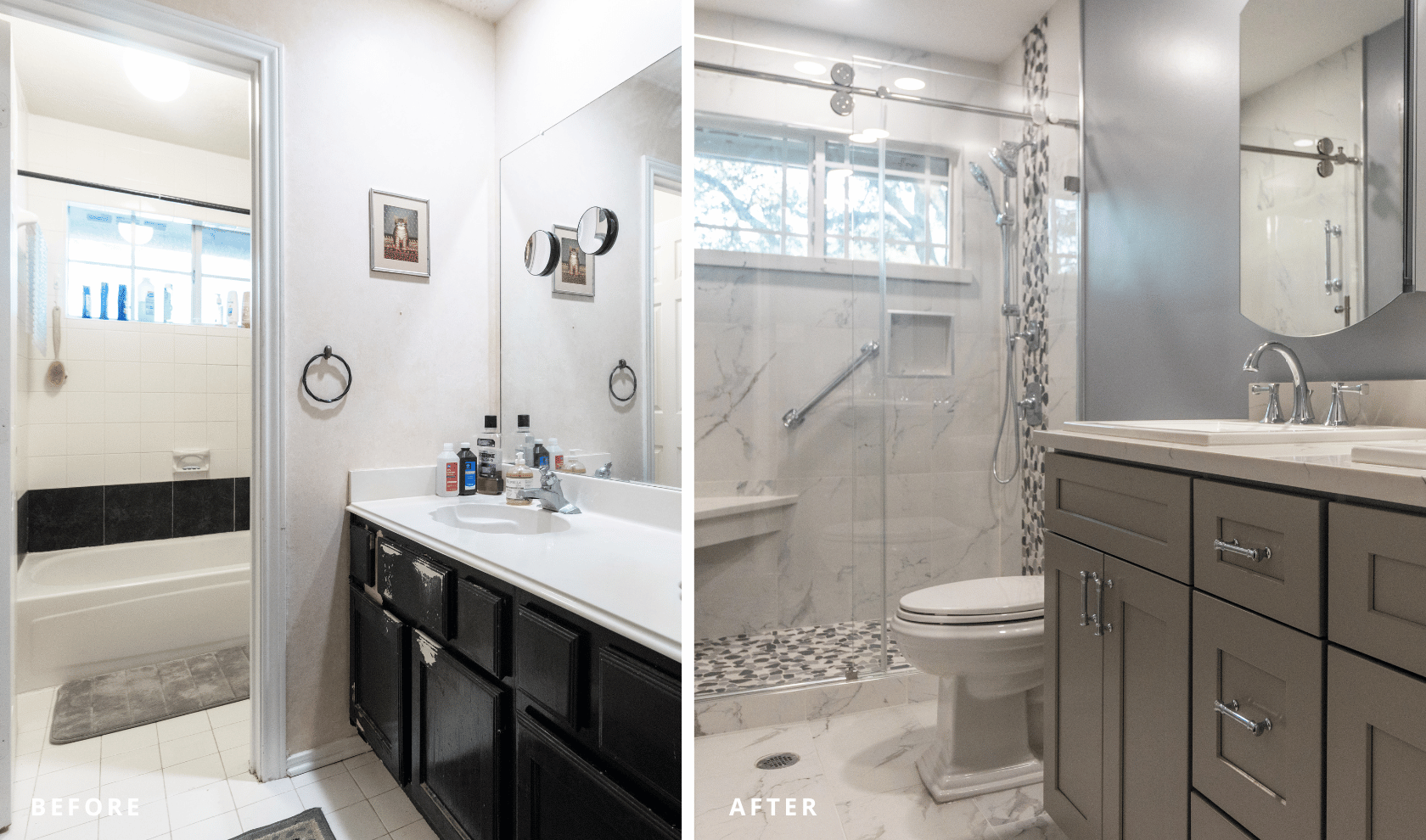 What are common goals in remodeling a 5x8 bathroom?
There's no question that improving the "look" is a common objective to a remodel. When you're thinking about a smaller space however, it is important to think about other factors too. Some of these common requests include:
Maximizing space. A 5x8 bathroom can only be laid out so many ways. Thinking about what makes the most sense to cater to your routine and also the aspirations of what products you want are two items that must align. A walk-in shower will appear more spacious and can be made to fit a space much easier than a freestanding tub. Is a double vanity necessary for your family or can you free up space and save cost by going with a single? An experienced contractor will have experience in this area and can offer feedback to suit your needs.
Along that same line is the need for storage. Endless toiletries, bottles of shampoo & conditioner, hair styling tools, towels, toys, and much more are expected to be hidden away when not in use. While we can't promise endless closet space, recommendations can be made around adding shower niches, vanity configuration, organizational accessories, or medicine cabinets for storage, or even the ability to add a linen cabinet. The last thing we want is for your new bathroom to be hidden under clutter!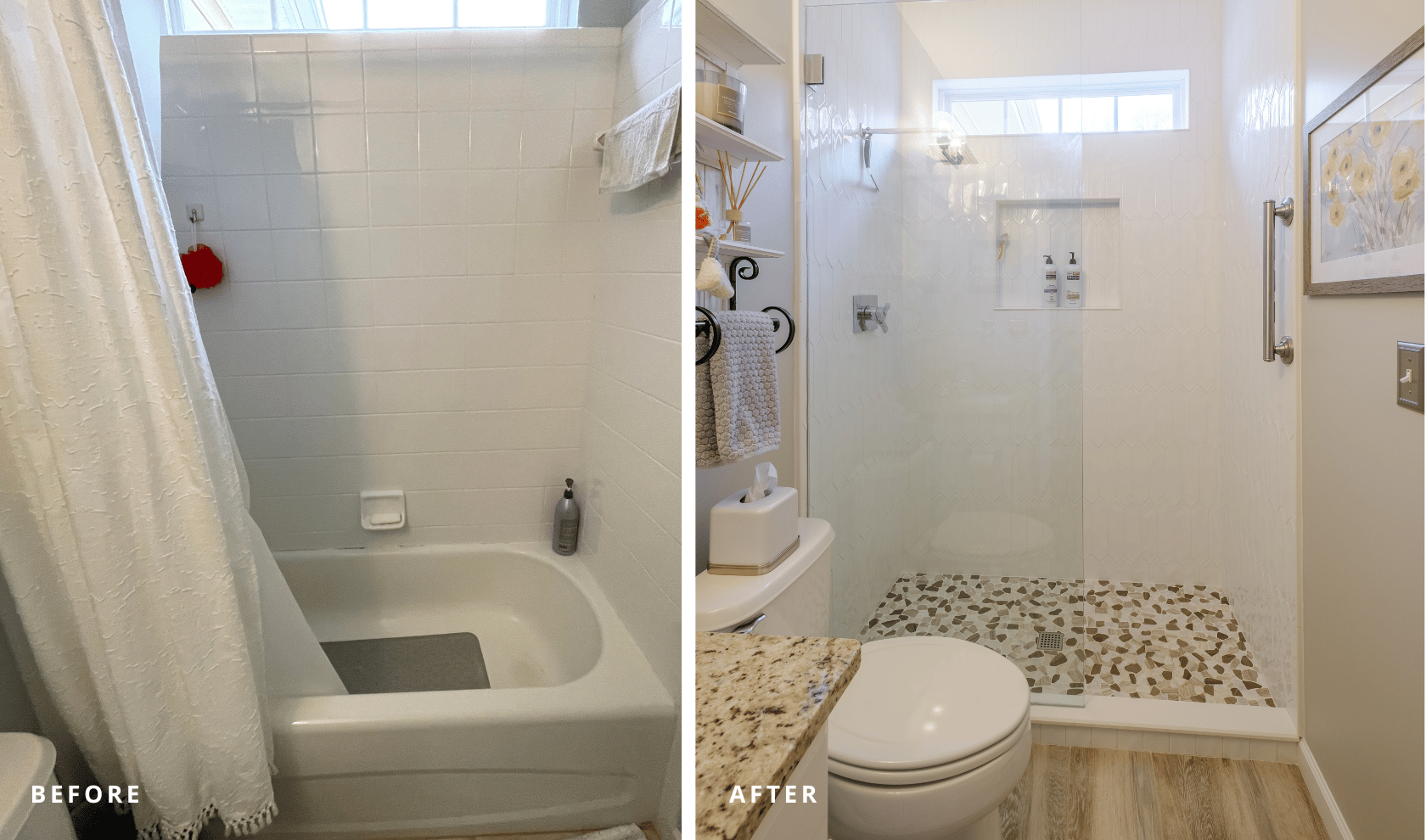 What else should I consider when I remodel my 5x8 bathroom?
Color choice is an important one. Opting for darker colors can give the illusion of a smaller space, whereas lighter colors create a more open feeling; you can always use darker towels and accessories to contrast. Windows for natural light and mirrors also both help to trick the eye into seeing more space in a smaller room.
You may worry about the number of choices that await you if you decide to completely remodel your bathroom. At Bath Tune-Up, our team has palettes and pre-selected options to use as a starting point for customers who need some inspiration. We can take it piece by piece until we've built your vision!
Don't let size keep you from believing your bathroom space can't be improved or provide an enjoyable experience. A 5x8 bathroom is a common size with a lot of untapped potential with the right improvements and contractor to help. Bath Tune-Up prides its team on providing a stellar, stress-minimal experience so that your daily routine makes you excited to get out of bed each day. Contact us today to schedule a free consultation!