Freshen Up Your Bathroom with "Industrial Chic" Style
"Industrial style" sounds odd for a home bathroom at first. Who wants a bathroom that evokes a factory or warehouse? Don't worry. This style simply takes the clean, simple materials of industrial spaces–metals, concrete, pipes–and applies them to bathrooms for a look that is refreshingly uncluttered.
Materials are especially important to industrial style. Give starring roles to materials you'd usually ignore. Rather than covering a concrete floor with tile or a concrete wall with drywall, leave the surface exposed. The same goes for brick: An exposed brick wall lends texture, pattern, and color to the bathroom. If the exposed brick isn't your thing, paint over the brick so that the pattern shows under the softer sheen of the paint.
The look isn't all about hard, man-made surfaces, though. Wood floors bring warmth to industrial bathrooms. Open shelving, a hallmark of industrial style, looks great made of wood.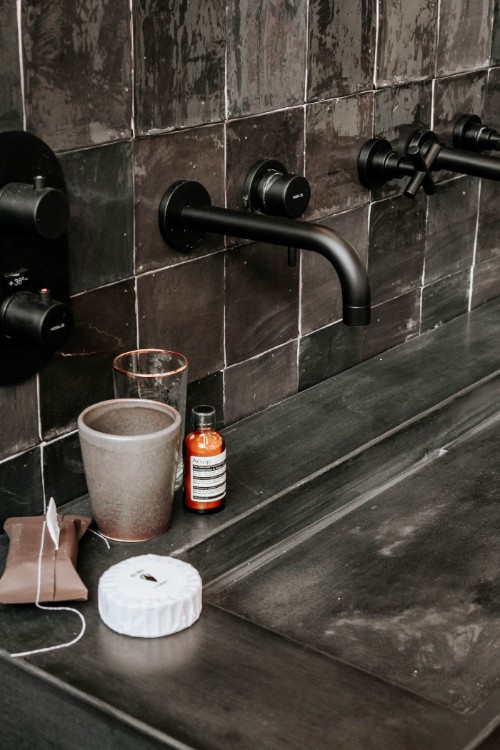 Black, White and Bold
The palette for industrial chic is primarily crisp white and black. White subway tiles on walls, with white tile flooring or a black-and-white patterned floor, define this style.
Other tones are industrial too. The matte gray of concrete, the shiny silver-gray of steel, and darker shades like slate all add variation to industrial bathroom design. Vivid splashes of bold colors like orange, red, or yellow, on accent walls, in niches, or on accessories, make great contrasts to the muted shades.

Sinks are especially strong statements of the industrial look. Picture sinks you might find in a workshop—functional and simple. Great choices are rectangular trough sinks made of concrete, stainless steel, or porcelain, or choose a deeper basin-style sink made of (for example) cast iron coated in white enamel. Let pipes beneath the sink show, for the full industrial style.
Faucets and handles in steel, brass, or copper match the industrial design. So do faucets in today's increasingly trendy matte black finish. Consider "cross-arm" tap handles in whatever finish matches your faucet. These X-shaped handles, often with a small, center porcelain button bearing an H or C for hot or cold, are a retro look that's ideal for industrial décor.
Tubs in enameled cast iron, copper or bronze, or black finishes, add to the industrial aesthetic, especially with touches like exposed rivets. Shower choices are basic simple shower stalls with glass sides, with metallic or black frames, and showerheads with a utilitarian look. Use towel bars made from pipes in any color from black to steel to brass, to complete the look.
To find out more about bathroom styles that are right for you, consult with a Bath Tune-Up expert today.