Different Types of Shower Surrounds
Your shower is a significant part of your bathroom design, so getting it right is essential. It needs to fit your budget, lifestyle, and design preferences while making your bathroom look great. While the showerhead is often the most critical part of the shower, the surround is the key to balancing price, looks, and functionality. Here are a few examples of shower surrounds to consider when upgrading your bathroom.
Fiberglass
Fiberglass surrounds can be one of the lower-priced options and are also relatively quick and easy to install. If you have the space for it, you can also choose a one-piece, ready-to-install unit. Fiberglass surrounds are also available as a separate pan and wallset.
One of the most significant benefits of having a fiberglass shower surround is that they tend to be low-maintenance. This is because they have a smooth, non-porous finish and no grout lines for you to clean.
Fiberglass shower surrounds don't retain the amount of water that tile can, which means less risk of mold, mildew, or other water-related issues. The smooth surface also means that, while you have to clean it less, on the rare occasion that you need to clean, it takes far less effort and meticulousness than cleaning tile.
Acrylic
Acrylic shower surrounds are extremely popular. The material has a similar aesthetic to fiberglass, but the material is actually quite different. Acrylic is a plastic-like material with a gel-based coating covering it. Like fiberglass, it's reasonably priced and highly durable.
Acrylic shower surrounds are one of the most reliable options for staying waterproof. Keeping water out is an essential trait for a shower surround. Acrylic is also a non-porous material, meaning it won't absorb moisture or lead to water damage or mold growth. Non-porous surfaces are also easy to clean. Depending on how often you shower and what cleaning substances you use, it may even be easier than cleaning fiberglass. Best of all, acrylic comes in various colors, styles, and patterns, such as faux marble and tile.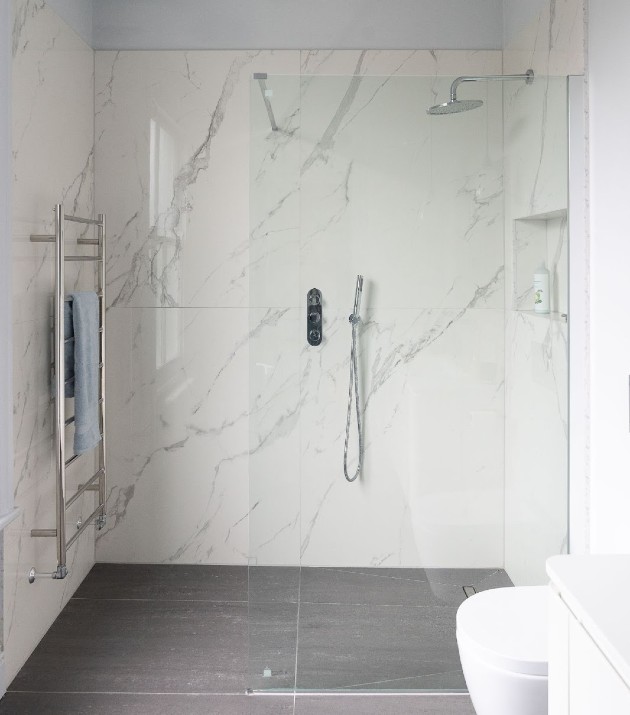 Stone
Natural stone shower surrounds, like marble or granite, have immense aesthetic appeal. They offer a lavish, earthy feel and can have a calming effect. The popularity of stone textures and patterns can help boost your home's resale value.
Unfortunately, while stone surrounds may look beautiful, they fall behind where other options excel. Any design in your home that involves natural stone will be particularly expensive and take more effort to install and maintain. Granite and marble are also both considered porous materials. They absorb the moisture, making them a harbor for mold and mildew growth.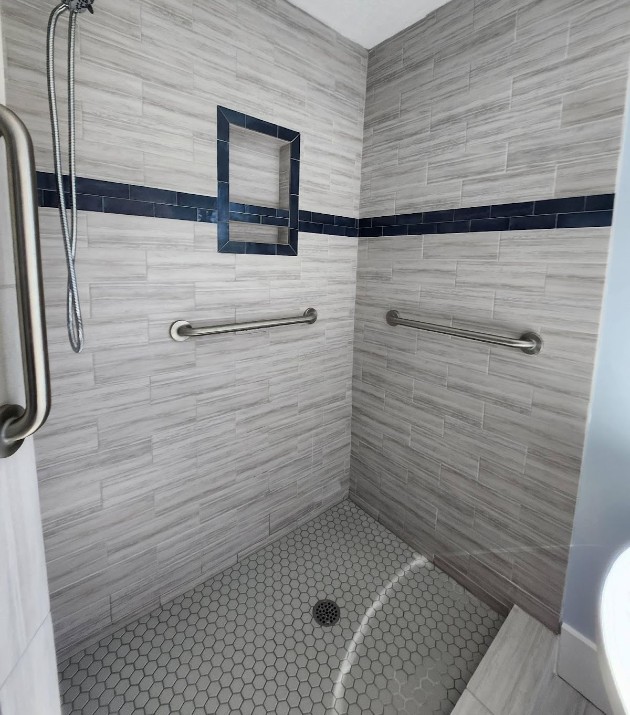 Solid Surface
If you are wishing for the best of both worlds when it comes to look and maintenance, you're in luck: there are solid surface shower surrounds that mimic the look of stone without the cost and maintenance hassles that come with real stone. It is also lighter, more durable and comes in a variety of colors and patterns. Not to mention, no needing to clean the grout lines!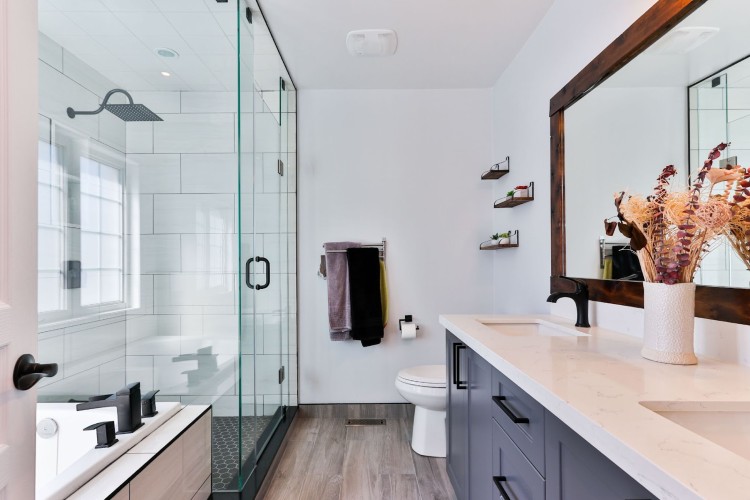 Glass
Glass is a popular material for shower surrounds and is often the go-to choice for many contractors. While you can't use it for the shower pan, you can make it from a different material and use the glass for the shower door and walls. You can use transparent, frosted, or even patterned glass for the walls and door.
You don't have to limit yourself to bland, run-of-the-mill glass panes, either. Glass blocks come in many styles, colors, and transparencies. The airy, light-loving qualities of glass can potentially make a small bathroom look more spacious, too.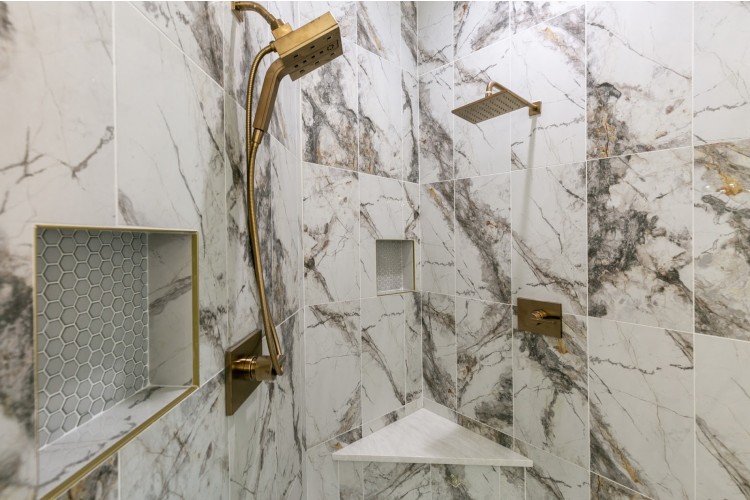 Tile
When using tile surrounds for a shower, there are a few things to remember. Tile surrounds are one of the most commonly used options, and they have been since at least the '70s. People love them for the wide variety of colors, patterns, materials, and sizes that they can come in and the aesthetic versatility. While the features of tile depend somewhat on the material they're made of, aesthetics and low pricing tend to be their big redeeming factor.
Tiles can take a significant time and effort to install, they can also demand more cleaning processes for a shower. Cleaning and sealing the grout is time-intensive and must be done often. If you simply love the tiled look, consider installing a shower surround made of tile-patterned alternative surface instead.
Call Bath Tune-Up for a Quick and Easy Bathroom Refresh!
When you want to upgrade your bathroom, call Bath Tune-Up! We can install new shower surrounds, convert your tub into a shower, and give your bathroom the makeover you've always wanted. Don't try to do it yourself. Get fast, professional service at a great price. Request your free consultation today!