The Rise of Bathroom Conversions; from Tub to Shower
Walk-in showers are a popular bathroom feature, and it's easy to see why. They've got plenty of space, easy entry, and host more accessibility than a tub. You can even have shower seating installed if you or someone in your family needs it. If you decide it's time to ditch your bathtub and replace it with a walk-in shower, there's no time like the present!
Before you get started, you should check out some of the great options available. There are plenty of tub-to-shower conversion styles, and it all comes down to which one best suits your lifestyle and preferences.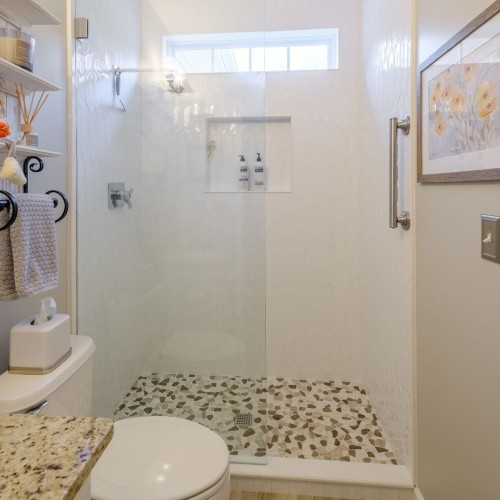 1. Overall Bathroom Remodel
This option can be the most expensive and time-consuming. But if you were already planning to remodel your bathroom, it's the perfect time to put in a brand-new walk-in shower where your old tub used to be. A full bathroom remodel is a daunting task to attempt alone, but the pros at Bath Tune-Up can quickly turn any bathroom into the space of your dreams.
Whether you need more space or want to make the most of the space you already have, a full bathroom remodel might be the answer. And, if you're worried that getting rid of the tub will affect home resale value, you needn't worry too much. Trends indicate that tubs are becoming less popular, and not having one is less of a dealbreaker – so long as the shower is spacious and has modern design features.
2. Space-Saving Convenience Conversion
Homes can have limited space, which leads to only having one bathroom in the house. Sometimes, you've got to work with the space you have, finding ways to maximize your square footage without making your home feel cramped.
While bathtubs may not seem like they take up a lot of space, they can be inconvenient to deal with in terms of storage options. The area around the bathtub needs to stay clear, and you'll need a shower curtain or other splash barrier. With a shower, you can install shelving or cabinetry on an outside wall, but you can't do the same with a tub.
People often value bathtubs aesthetically, but walk-in showers can have the same effect if designed properly. Some people also prefer bathing over showering because they find it more relaxing, but the right shower features can give you the same effect. When done right, walk-in showers can be the perfect way to save space without losing functionality. There are many creative ways to install a shower that use no more space than a tub – and often less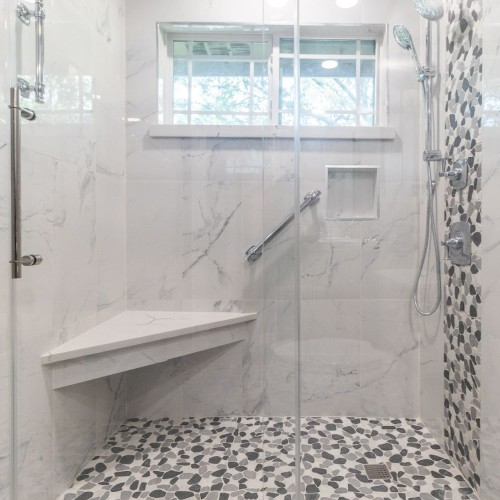 3. Accessible Walk-Ins
Another way to design your walk-in shower, focus on accessibility and easier use. This means removing or shrinking the edge of the shower entrance so that people with physical limitations can enter and exit easier. It also includes installing a safety grab bar to minimize the risk of falls, and using tile flooring in the walk-in shower to make it less slippery. You can also install seating inside your walk-in shower for those who are unable to stand for prolonged periods but still want to shower on their own.
Bathtubs are nice if you can use them, but not everyone can do so without help. The biggest issue with tubs is that they have taller edges and few options to hang onto as you lower yourself in or lift yourself out. Walk-in showers provide a safer option for those who need it to maintain their independence. You can even install a rescue button or switch to summon help if they do fall or need some form of assistance.
Get a New Shower with Bath Tune-Up
Taking out your tub and installing a shower can be a daunting task. Get help from the bathroom remodel experts at Bath Tune-Up and never worry again. We have a variety of curated design options to make the process simple, easy, and painless! Get rid of your old tub and step into your new dream shower – it's just a phone call away! (888) 569-2367.