Design Styles to Incorporate into Your Bathroom
You're pondering your dream bathroom. Exciting, right? But a scroll through the internet can feel daunting. How does contemporary design differ from traditional style? Why is everyone talking about "farmhouse"? Are modern and contemporary the same thing?
Here's a quick primer on four styles and what they look like in bathroom design.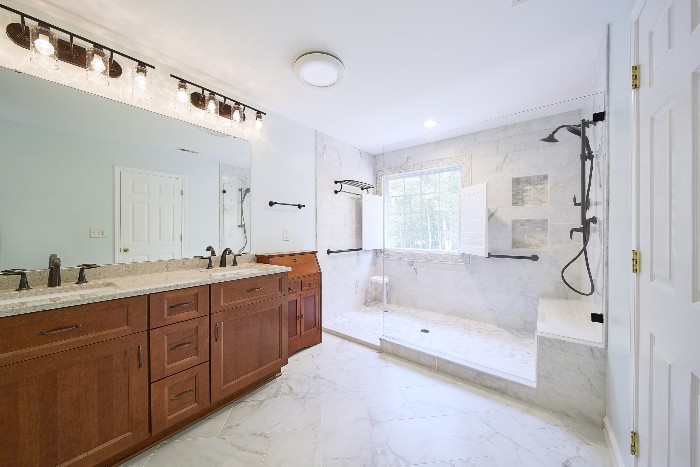 Traditional
Traditional style incorporates classic shapes, colors and details that draw on the past but don't feel dated. Traditional bathrooms use existing features an older house might have, like wainscoting–or borrow those features and add them to a newer home! Try these:
Features like crown molding and wainscoting
Furniture-like vanities of stained or painted wood
White marble counters
Framed mirror instead of a mirrored cabinet
Dressing table with chair or stool
Painted wood-paneled walls
Wallpaper in botanical or old-world prints
Floors of tiny tiles in white, black and white, or colors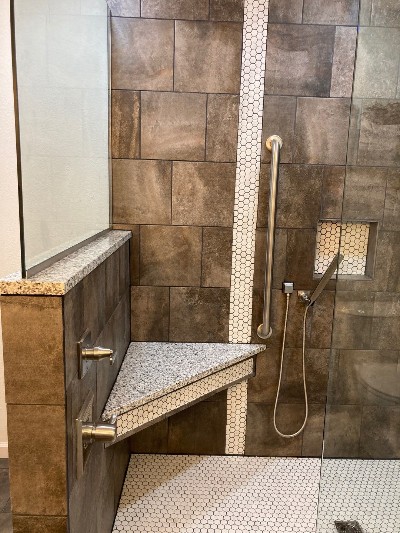 Contemporary
Contemporary is often confused with "modern." Contemporary design simply means "What's popular right now." (Modern design roughly refers to styles from mid-to-late-20th century). So what's hot now? A sampling:
Free-standing tubs
Marble (or imitation marble) countertops, tile, and floors, especially in colors
Subway tile in colors
Bold "statement" light fixtures like chandeliers
Larger rugs instead of mats
Earthy colors like green, rust and terracotta, or….
Darker, saturated colors like deep teal
Botanical print wallpapers and accessories
Metallic fixtures in warm copper and brass

Modern Farmhouse
Combine today's shapes and colors with sparingly used traditional materials like wood, clay and terracotta surfaces, and you have modern farmhouse style. This style uses some industrial "warehouse" touches, too, especially metals. Here are some modern farmhouse features:
Farmhouse sink–oversized, deep and rectangular
Black or chrome industrial-style fixtures
Copper basin sink
Modern shower stall with industrial-look metal framing
Rustic wood vanity
Industrial-style, metal hanging lights
Metal-framed mirror
Wooden bench or stool
Wood shelving
Wicker or rattan baskets or hampers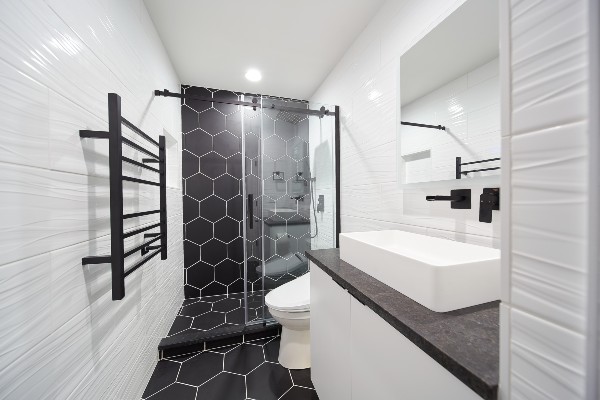 Minimalist
Minimalist design strips away decoration to leave only the essentials. Minimalist bathrooms are uncluttered, carefully curated and simple. Reduce visible clutter and choose streamlined fixtures. A minimalist bathroom could include these:
Simple wall-mounted sink without vanity
Hidden storage so items get stowed out of sight
Sleek designs like "floating" vanities with no cabinetry and rimless shower stalls
Frameless mirrors
Clear glass shower stalls
Subtly colored (but not patterned) tiles for showers, backsplashes and floors
A neutral color palette
You don't have to navigate styles on your own. Talk to a Bath Tune-Up expert today and get started on your unique bathroom.