Bathroom Makeover 101: Getting Started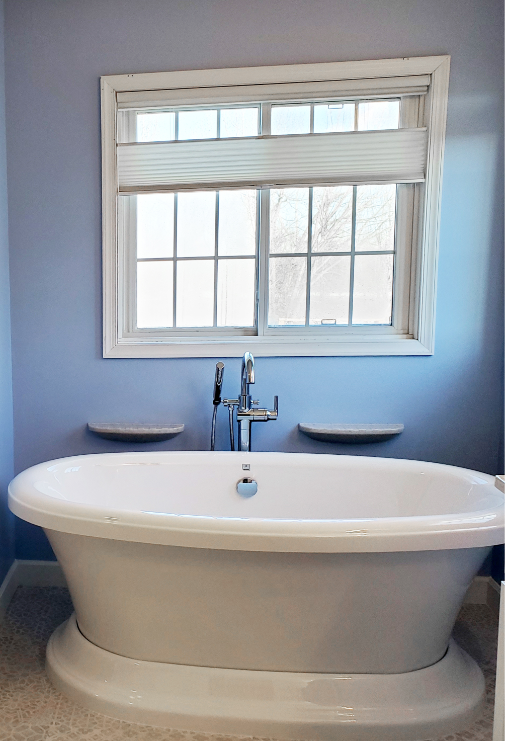 If you're thinking about a bathroom renovation, it can be hard to know where to begin. Start with thinking through why you want a change, what your family needs, and which beautiful and useful bathroom trends might spark creative changes in this small but important room.
Why Remodel?
Be honest: Are you daunted? That's understandable. A bathroom's essentials—bathtub or shower, sink, toilet—seem fixed, wedded to their plumbing, and tough to change.
Yet their looks get dated quickly. Are you living with someone's long-ago tastes (picture an avocado bathtub)? Or with old pieces that didn't age well (that wood vanity was a bargain, but now it's peeling)? You might assume they'll be a pricey pain to redesign. Shutting the door is easier.
But think about how increased space, better storage, and newer fixtures could make the bathroom more functional. Don't be reluctant to ask what's doable. Some remodel take only days.
Know What You Need
Any remodels should start with an inventory of who uses this bathroom and how they use it.
How many people use it daily? Is it for guests, adults, kids, everyone? Is it strictly for getting ready, or is it a hangout for relaxing baths and facials? Will someone need non-slip surfaces and grip bars? Will you be bathing a wiggly toddler?
You can find a "day in the life of your bathroom" questionnaire here to help uncover how much use the bathroom really gets.
Trends for Beauty and Functionality
Once you understand your needs, look at these current trends: Which of these might make your bathroom look better and also work better?
Double sinks. Side-by-side sinks make it easy for two people to get ready at once.
Showers. beyond the basic. How about more than one showerhead? Jets that spray from different angles? Seating in the shower? Built-in shelves?
Freestanding tubs. After decades of tubs fitted against walls, the old-school bathtub is making a comeback in shapes and sizes to fit more spaces.
Hidden toilets. Enclose the toilet behind a wall or door for privacy.
Storage. Think beyond vanity cabinets and explore whether you can create recessed shelving or put storage over the door. Visit our blog about storage options.
Lighting. Task, decorative, and pendant lighting aren't just for kitchens.
Tile. Tile adds color and pattern on a backsplash, shower floor, or wall niche.
Color. Commit to a full paint job, or try just one accent wall in a bold color. Add more color to a neutral bathroom with colorful accessories and containers.
Take your needs and ideas to your remodeling specialists to find out how they can help.